Droga wojewódzka nr 140 z Wronek do Ciszkowa od piątku 29 maja jest już otwarta dla ruchu. Można zatem bez żadnych obaw udać się do kolejnej zapomnianej miejscowości w okolicach Wronek. Tym razem są to Bielawy.
Bielawy to nieistniejąca już osada między Jasionną a Rzecinem, założona w 1747 roku jako kolonia typu olęderskiego. Językoznawcy tłumaczą pochodzenie nazw tego typu od "bielaw", zwrotu używanego na określenie błotnistej łąki, torfowiska, mokradła.
Pan Piotr Pojasek w wypowiedzi dla "Gońca Ziemi Wronieckiej" podaje:
Podczas zaborów i okupacji hitlerowskiej funkcjonowała niemiecka nazwa Neuwalden (Nowy Las). Według danych statystycznych na terenie Bielaw w 1845 roku było 14 domów zamieszkałych przez 146 osób, z tego 19 katolików i 127 ewangelików ; w 1880 roku było 21 domów zamieszkałych przez 243 osoby – 12 katolików i 231 ewangelików ; w 1929 roku odnotowano 173 mieszkańców, z tego 108 Polaków i 65 Niemców.
Po II wojnie światowej mieszkańcy zaczęli wyjeżdżać na ziemie odzyskane lub do okolicznych miejscowości. Ci, którzy zostali, musieli zmagać się z dużą populacją dzików, niszczących skutecznie ich uprawy. Pozostawione domy sprzedawane były na rozbiórkę. W latach 60. ubiegłego wieku, wieś ostatecznie opustoszała.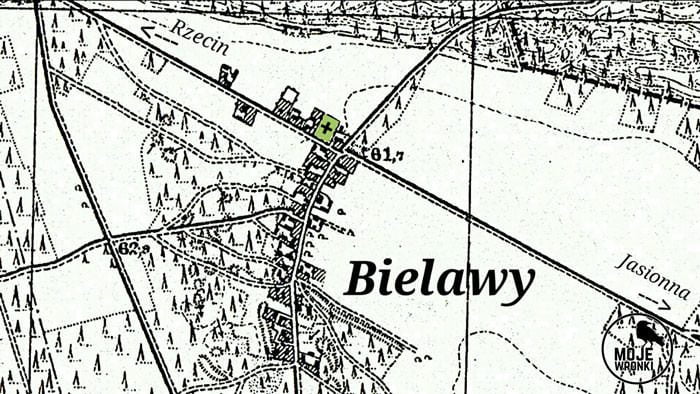 Do dnia dzisiejszego zachowały się nieliczne ślady po tętniącej niegdyś życiem miejscowości. Między innymi ewangelicki cmentarz (zaznaczony na mapie kolorem zielonym) z zaniedbanymi nagrobkami i porozrzucanymi tablicami. Na jednej z tablic nagrobnych widnieje jeszcze, wyryty w języku niemieckim napis:
Tu spoczywa w Bogu – Moja ukochana żona i nasza … matka – Augusta Golisch – z domu Fenner – ur. 21 sierpnia 1839 – zm. 10 grudnia 1885.
Resztę umieszczonego tam tekstu, skutecznie zatarł upływający czas.
Gdzieniegdzie dostrzec można zarysy fundamentów nieistniejących już budynków z wyraźnymi zagłębieniami, najprawdopodobniej po piwnicach. W wielu miejscach można się natknąć na kawałki cegieł i dachówek. Część z nich jest widoczna dla oczu, a część ukryta pod grubą warstwą runa. Spacerując po lesie, rosnącym na miejscu, gdzie kiedyś stały budynki, można napotkać stare naczynia, kawałki blaszanych obić dachowych czy nawet części maszyn rolniczych. Pośród równo zasadzonych drzew sosnowych rosną jeszcze stare kasztanowce, buki, dęby, a także drzewka owocowe, zasadzone kiedyś przez mieszkańców Bielaw.
Zachęcam również do zapoznania się z fragmentami tekstu pana Jacka Rosady. Redaktor naczelny Gońca Ziemi Wronieckiej w swoim opisie tej miejscowości zawarł bardzo cenne wypowiedzi mieszkańców Bielaw, a także kilka zdjęć z początku ubiegłego wieku.
Dzisiaj Bielawy to dla większości z nas tylko nazwa zwyczajowa, określająca miejsce w Puszczy pomiędzy Jasionną a Rzecinem. Jednak nie zawsze tak było. Przed laty Bielawy były dużą wsią, wsią tętniącą życiem, o której chciałbym Państwu opowiedzieć. Przyznam szczerze, że trudno jest pisać o czymś, czego już nie ma, jak również niewiele pozostało słowa pisanego, zachowanego w archiwach.

Prawdopodobnie nazwa wsi Bielawy koło Wronek pojawiła się w dokumencie Władysława Łokietka z 1247 roku jako Baloowa, ale czy jest to prawdą, tego nie wiem.

W archiwum parafii farnej we Wronkach znajduje się lista wyborcza gminy Bielawy z 1933 r., w której figurują nazwiska osób (ojców rodzin i wdów) wyznania rzymskokatolickiego: Urlewicz Pelagia (numer domu 1), Chorzępa Jan (nr 6), Dekert Jakub (nr 6), Marciński Stanisław (nr 6), Słaby Franciszek (nr 7), Połączasz Piotr (nr 9), Łukaszewski Paweł (nr 9), Czapracki Maksymilian (nr 10), Mądry Jan (nr 11), Libera Stanisław (nr 12), Sobieralski Franciszek (nr 13), Sapeta Józef (nr 14), Łach Władysław (nr 14), Nowak Andrzej (nr 16), Honiarczyk Józef (nr 16), Kuświk Ignacy (nr 17), Jurasz Jan (nr 17), Urlewicz Andrzej (nr 19), Matlak Józef (nr 24), Więckowski Stanisław ( nr 25), Piasecki Michał (Wronki, Zamość), Czerny Grzegorz (nr 26), Antkowski Walenty (nr 27) i Palacz Edmund (nr 28).

Posłuchajmy zatem, co pozostało w pamięci moich rozmówców, mieszkańców wsi Bielawy, których udało mi się jak dotąd odnaleźć:


Pani Janina Henschke – Rzecin:

Przed wojną było 28 domów, a Polaków i Niemców było równo po połowie. Nie było żadnych waśni, wszyscy żyli zgodnie, pomagali sobie i razem się bawili, również dorośli. Chodziliśmy razem z Niemcami do szkoły, do Jasionny, bo szkołę w Bielawach zamknięto w 1923 roku. Na początku wojny Niemcy przeszli na drugą stronę Warty, gdzie są lepsze ziemie, a w ich miejsce przyszli wypędzeni z domów Polacy. Po wojnie, na początku lat pięćdziesiątych, wielu z nich pojechało na Ziemie Odzyskane. Ojciec nie chciał opuścić Bielaw mówiąc, że już dość natułał się po świecie. Po śmierci ojca na gospodarstwie pozostał brat, bo ja wtedy wyprowadziłam się do Rzecina, do męża. Brat mieszkał w dawnym budynku szkolnym do początków lat sześćdziesiątych.


Pan Karol Małecki – Wronki:

We wsi była szkoła, którą zamknięto w 1922 roku i dzieci z Bielaw chodziły do szkoły w Jasionnie(…). Ja Bielawy pamiętam jeszcze sprzed wojny. Ile wtedy tam mieszkało rodzin? – muszę policzyć: Czerny, Chorzępa, Grygiel, Niezborała, Lembicz, Urlewicz, Mądry. Za Mądrym mieszkał Niemiec, nazwiska nie pamiętam. Potem była szkoła, za szkołą dwóch Niemców, Sapeta – ostatni sołtys – kolejny Niemiec. Kolejnym budynkiem była "hrabiowska chata" – dom należący do hrabiego Hochberga, w którym mieszkali jego pracownicy leśni. Byli też Paprzycki i Betka. Po wojnie z gospodarzy pozostali Urlewicz, Wicher, Marczyński i Chorzępa. Reszta wyjechała albo do Wronek albo na Ziemie Zachodnie. Do ostatnich mieszkańców wsi należeli Młynarczyk, Wicher i Niezborała z żoną, którzy mieszkali w małym, glinianym domku za cmentarzem. Gdy Szczepan Niezborała umarł, jego żona jako ostatnia opuściła Bielawy.


Pan Zygmunt Urlewicz – Stare Miasto:

Ja urodziłem się na Bielawach, a w domu było nas sześcioro, z czego połowa rodzeństwa żyje. Do dzisiaj dużo pamiętam z mojej wsi. Była to od początku wioska niemiecka, bo oni tam dawno przyszli, jeszcze przed pierwszą wojną światową. Wieś była piękna, niedaleko było jezioro w Smolarach, wieś miała swój tartak. Położona była wzdłuż drogi na Rzecin, którą nazywano Frankstrasse oraz wzdłuż starej drogi na Wronki. Od strony Jasionny nie było lasów tylko pola.

Niemcy mieli lepsze domy niż Polacy, murowane, pewnie dostawali pieniądze od swoich, z Niemiec. Ojciec mój kupił dom, w którym była karczma i sala zabaw od właściciela, Niemca. Ojciec pochodził ze wsi Dębe koło Czarnkowa, a mama z Gulcza. Pamiętam, że zabawy były w każdą sobotę, a bawili się wszyscy razem: Niemcy i Polacy. Po wojnie, dużo Polaków wyjechało na Ziemie Odzyskane, a ich domy gmina sprzedawała na rozbiórkę. Znikały jeden po drugim.

I jeszcze powiem o krzyżu, który stał w środku wsi, na górce. Gdy przyszli Niemcy, pewnej nocy krzyż został ścięty, przez Niemca mieszkającego we Wronkach, który miał rodzinę w Starym Mieście i tam zładowano drewno z krzyża. Później dowiedzieliśmy się, że na tym drewnie chcieli upiec chleb i ciasto, ale wszystko się spaliło. Dlaczego ludzie z Bielaw po wojnie zaczęli się wyprowadzać? Niemcy na ten teren sprowadzili dużo dzików, które robiły takie szkody, że nie było co zbierać z pól i dlatego ludzie porzucali swoje gospodarstwa.


Pani Wanda Fąferek z d. Urlewicz – Pęckowo:

W którym roku ojciec kupił dom od Niemca na Bielawach tego dokładnie nie wiem, ale zaraz, możemy policzyć: Moja mama wyszła za mąż mając 21 lat, a urodziła się w roku 1900. Gdy wychodziła za mąż, to dom był już własnością ojca i z tego wychodzi, że najprawdopodobniej w 1920 roku. Dom był duży. Był w nim sklep, karczma z kuchnią, w której gotowano obiady dla pracowników leśnych, sala zabaw i 3 pokojowe mieszkanie. Czwarty pokój był na poddaszu i mama opowiadała, że mieszkał w nim jakiś Żyd, który handlował drewnem.

(…) Bielawy były bardzo ładną wioską. Mieliśmy nawet swojego pustelnika, który nazywał się Edmund Palacz (w prostej linii potomek powstańca styczniowego Macieja Palacza, którego imię nosi jedna z poznańskich ulic).

Jak pamiętam, to przed wojną, w latach 30. ub.w. w Bielawach mieszkali:
1.Niezborała, 2.Grygiel, 3.Chorzępa, 4.Czerny, 5.Filipek, 6.Urlewicz, 7. Klawiter – Niemiec, 8.Will – Niemiec, 9.Bendler i Haide – Niemcy, 10.Nowak, 11.Słaby, 12.Jans – Niemiec, 13.Owczarek, 14.Sapeta, 15.Machander – Niemiec, 16.Budynek gminny, 17.Kuślik, 18.Schlissing – Niemiec, 19.Budynek Nadleśnictwa, 20.Bonke – Niemiec, 21.Elke – Niemiec, 22.Linke – Niemiec, X – szkoła, Y – krzyż, Z – piec chlebowy.
Ludzie we wsi się szanowali, jeden drugiemu jak umiał, to pomagał, niezależnie od tego czy był Polakiem czy Niemcem. Był jeden wyjątek – Niemiec Linke. Z niego było kawał drania, nie przepuścił nikomu: ani Polakowi ani Niemcowi. Raz nasz sąsiad Niemiec opowiadał, że jak jechał z Wronek z targu z zakupionymi prosiętami, to po drodze spotkał Linke'go i od razu prosiaki mu pozdychały. Dlatego później jeździł dalszą drogą przez Jasionnę, byleby nie spotkać tego gada. Drugim był Schlissing, ale nie był taki jak Linke. Ruski przyszli do wsi pod koniec stycznia 1945 r. I jak to Ruski, rozgościli się w sali zabaw, kazali mamie nasmażyć słoniny na zakąskę i pili. Byli u nas na szczęście bardzo krótko. Po wojnie ludzie z Bielaw zaczęli wyjeżdżać, a ich domy sprzedawano pod rozbiórkę. My zostaliśmy aż do 1968 roku, a wyjechaliśmy przez dziki, które nie dawały żyć.


Pan Marian Urlewicz – Wronki:

Ojciec ożenił się z mamą, która była jego drugą żoną w 1922 roku i już wtedy był właścicielem budynku ze sklepem, karczmą i salą zabawową. Dom kupił od Niemca w 1920 roku. Po I wojnie światowej, żaden Niemiec tutaj dotychczas mieszkający nie opuścił wsi aż do września 1939 roku, kiedy zabrali Polakom gospodarstwa po drugiej stronie Warty, gdzie są lepsze ziemie. Między Niemcami a Polakami, przed wojną, stosunki międzyludzkie były normalne. Było też tak, że raz sołtysem była Polak a raz Niemiec i nikomu to nie przeszkadzało. Powiem więcej, przed wojną Niemcy byli bardzo spokojni oprócz jednego, o nazwisku Linde. To był normalny wariat, który nikomu nie przepuścił, nawet swoim rodakom. W połowie 1939 roku we wsi pojawił się niejaki Herbert Schleizing, herszt, który sprowadzał karabiny zza Noteci. Pewnego dnia przyszła do niego policja, znalazła dużą ilość karabinów, które zarekwirowała, a jego wsadziła do więzienia. Wypuścili go hitlerowcy na początku września i od razu stał się wielkim chamem, bo miał za sobą siłę. Od razu przeprowadził się do Starego Miasta zabierając jednocześnie nam młockarnię i maszynę do szycia, które odzyskaliśmy dopiero po wojnie. Niestety, nasi sąsiedzi, Niemcy, po wejściu niemieckiego wojska do wsi, pokazali swoje prawdziwe oblicze. Było to w połowie września, jechałem rowerem i po drodze spotkałem swoich kolegów szkolnych, chłopaków od Niemca Jansa. Chciałem ich ominąć, ale nie dali. Przewrócili mnie na ziemię wraz z rowerem i ciężko pobili, bo nie zdjąłem przed nimi czapki. Jeszcze w czerwcu siedzieliśmy w jednej ławce szkolnej, a we wrześniu już poczuli się panami. W środku wsi, na niewielkiej górce, stał duży, dębowy krzyż. Pewnej wrześniowej nocy ściął go Niemiec z Wronek, dróżnik kolejowy na przejeździe przy ulicy Poznańskiej, niejaki Metterschmidt. Ścięty krzyż kazał przewieźć mnie i sąsiadowi, Nowakowi do Starego Miasta, do swojego gospodarstwa na opał. Dziwne jest to, że on nie mieszkał na Bielawach, a o krzyżu musiał się dowiedzieć od kogoś z naszej wsi. We wsi był cmentarz ewangelicki i pamiętam, że obok grobów nowych, były tez bardzo stare, już się rozsypujące, co świadczy, że ludzie na Bielawach żyli od dawna. Opowiadała mi babcia, że przed laty prawie cała wieś się spaliła i pozostało po niej tylko kilka domów, zbudowanych z drewna. Jeden z nich pamiętam. Był bardzo stary i stał szczytem do drogi. Był zbudowany ze smolnego drzewa i ludzie go rozebrali na podpałkę do pieca. We wsi była koło szkoły budka stróża, bo był taki obowiązek, że każdy mężczyzna musiał w nocy stróżować, by zawiadomić o ewentualnym pożarze. We wsi były również bramy wjazdowe, pobudowane przez hrabiego Hochberga, aby z ogrodzonych płotem jego lasów zwierzyna na uciekała.

Szkoła – 1910 rok

Restauracja – 1910 rok

Mapa okolicy – 1919 rok

Zabudowania w dawnej wsi

Mieszkańcy ówczesnych Bielaw

Jacek Rosada – Goniec Ziemi Wronieckiej nr 12/2009
Dla uważnych i wytrwałych czytelników ogłaszamy konkurs. Nagrodą jest kubek mojeWronki wraz z gadżetami. Otrzyma go pierwsza osoba, która prześle na nasz adres mailowy lub jako wiadomość na Facebooku, zdjęcie tablicy nagrobnej z wyrytym napisem, opisanej na początku tego artykułu. Życzymy udanego zwiedzania i owocnych poszukiwań.
Jak dojechać?
Zjeżdżamy z Ronda Europa na drogę wojewódzką nr 140 w kierunku Ciszkowa – za Jasionną skręcamy w lewo w drogę wojewódzką nr 149 w kierunku Rzecina – po przejechaniu ok. 1,6 km zjeżdżamy na parking leśny znajdujący się po prawej stronie szosy – jesteśmy na miejscu.