Ostatecznie 55 milionów złotych kosztowało wybudowanie nowoczesnego Centrum Badawczo-Rozwojowego Akademii Lecha we Wronkach. Z tej kwoty blisko 20 milionów Kolejorz otrzymał w ramach "Programu inwestycji o szczególnym znaczeniu dla sportu" Ministerstwa Sportu i Turystyki. Niedawno zakończyła się budowa, a we wtorek po południu nastąpiło oficjalne otwarcie i symboliczne przecięcie wstęgi. – Ta inwestycja ugruntuje naszą pozycję najlepszej akademii w Polsce i wpisuje się w rok obchodów stulecia klubu – mówi prezes Lecha Poznań, Karol Klimczak.
Nieco ponad dwa lata temu ogłosiliśmy początek największej inwestycji w historii Kolejorza. Był lipiec 2020 roku i rozwijająca się pandemia koronawirusa. Prace koncepcyjne trwały jednak wcześniej blisko trzy lata, a przedstawiciele klubu odwiedzili sporo akademii piłkarskich w całej Europie, żeby jak najlepiej przygotować się do zrealizowania kluczowego projektu w rozwoju Poznańskiej Lokomotywy. W kwietniu 2021 nastąpiło podpisanie umowy z generalnym wykonawcą – firmą Projprzem Budownictwo, która jest obecna na rynku od ponad 70 lat, ma za sobą 200 realizacji i 500 projektów. Teraz doszła również do tego Akademia Lecha.
Mimo wielu problemów po drodze, braku surowców na rynku, szybko rosnących kosztów materiałów budowalnych, co wynikało z bieżących wydarzeń na świecie, ostatecznie po półtora roku od symbolicznego "wbicia łopaty" prace zostały ukończone i Centrum Badawczo-Rozwojowe jest gotowe do przyjęcia czterech zespołów klubowej akademii. We wtorek po południu we Wronkach nastąpiło uroczyste otwarcie i przecięcie wstęgi. – Dziękujemy panu premierowi, ministerstwu sportu i wielu życzliwym osobom, które przyczyniły się do tego, że budowa nowego domu Akademii Lecha we Wronkach przeszła z fazy planów w fazę realizacji aż do szczęśliwego finału – podkreśla prezes Kolejorza, Karol Klimczak. Warto w tym momencie podkreślić, że początkowo koszty szacowano na 40 milionów złotych. Ostatecznie jednak w związku z sytuacją ekonomiczną na świecie zamknęły się w kwocie znacznie wyższej, bo 55 mln zł.
– Jesteśmy dumni z tego, że rok 2022, kiedy świętujemy stulecie Lecha, jest tak obfity w ważne dla nas wydarzenia. W marcu był kapitalnie opakowany mecz rocznicowy z Jagiellonią Białystok, dwa miesiące później świętowaliśmy ósme mistrzostwo Polski, a latem weszliśmy do fazy grupowej europejskich pucharów, w których piszemy znów piękną historię i po pokonaniu w czwartek Villarreal 3:0 po raz trzeci zagramy w Europie na wiosnę. Rok jubileuszowy jest również ważny ze względów inwestycyjnych. Dziś otwieramy Centrum Badawczo-Rozwojowe, a w kolejce jeszcze czeka klubowe muzeum – podkreśla prezes Klimczak.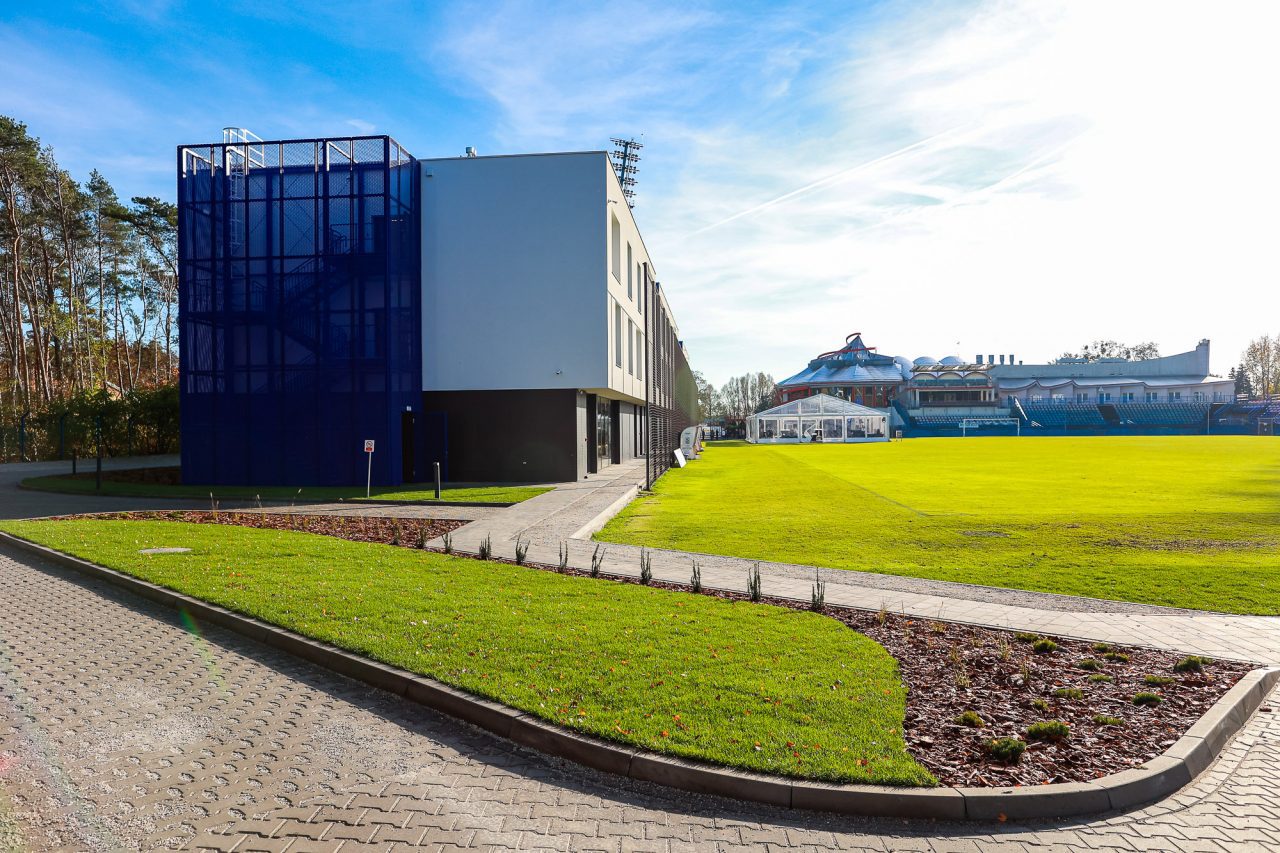 Kolejni wychowankowie w drodze
Nie ma najmniejszych wątpliwości, że pod względem szkolenia młodzieży w kraju Kolejorz stanowi awangardę.– Mamy najlepszą Akademię, zatrudniamy najlepszych trenerów do pracy z młodymi zawodnikami oraz najlepszych skautów młodzieżowych. Pod względem szkolenia jesteśmy najlepsi w Polsce. Wiemy jednak doskonale, że do odpowiedniego rozwoju potrzebna jest również nowoczesna infrastruktura i taką właśnie stworzyliśmy. To może nam dać przewagę konkurencyjną na lata. Zyskamy na tym oczywiście nie tylko my, ale też wszystkie kadry biało-czerwonych, które są regularnie zasilane przez piłkarzy juniorskich oraz seniorskich ekip Kolejorza – mówi prezes i właściciel Lecha, Piotr Rutkowski.
Marcin Kamiński, Jan Bednarek, Tomasz Kędziora, Karol Linetty, Dawid Kownacki, Kamil Jóźwiak, Robert Gumny, Jakub Moder, Tymoteusz Puchacz, czy Jakub Kamiński to wychowankowie, którzy trafili z Lecha do mocnych europejskich klubów i zadebiutowali w narodowych barwach. Kolejnym jest Michał Skóraś, który teraz występuje z powodzeniem przy Bułgarskiej i także już miał okazję grać w koszulce z orzełkiem na piersi u selekcjonera Czesława Michniewicza. A w kolejce czekają przecież młodsi Filip Marchwiński, Filip Szymczak oraz ich koledzy z roczników 2003 i młodszych. – Kto się nie rozwija, ten stoi w miejscu i o tym cały czas pamiętamy – dodaje Rutkowski.
Sama bryła głównego budynku Centrum Badawczo-Rozwojowego ma nawiązywać do lechowej identyfikacji i historii, czyli kolejarskiego rodowodu. Stąd łatwo dostrzec, że budowla przypomina kształtem lokomotywę z wagonami. A w środku mamy mocne nawiązania do wychowanków. Zresztą na oficjalnym otwarciu gościli Marcin Kamiński oraz Kamil Jóźwiak, a także ci, którzy są w tej chwili w pierwszej drużynie prowadzonej przez Johna van den Broma.
– Istotne znaczenie ma dla nas także aspekt wychowanków, stąd też postanowiliśmy nazwać niektóre sale dydaktyczne czy rekreacyjne od imienia i nazwiska tych piłkarzy, którzy obecnie reprezentują nasz kraj czy występują w najsilniejszych europejskich ligach. Dlatego mamy siłownię imienia Jana Bednarka czy salę konferencyjną imienia Jakuba Modera, to pokazuje chłopakom mieszkającym na co dzień w akademii, że każdy z nich ma szansę stać się częścią tego obiektu w przyszłości. W holu głównym znajdują się także specjalne tory z umieszczonymi nazwiskami najwybitniejszych zawodników wywodzących się z naszej akademii. To naturalny pomysł naszej grupy roboczej, podobnie zresztą jak umieszczenie sylwetek niektórych z nich na głównej fasadzie skills.lab – tłumaczy Marcin Wróbel, dyrektor Akademii Lecha.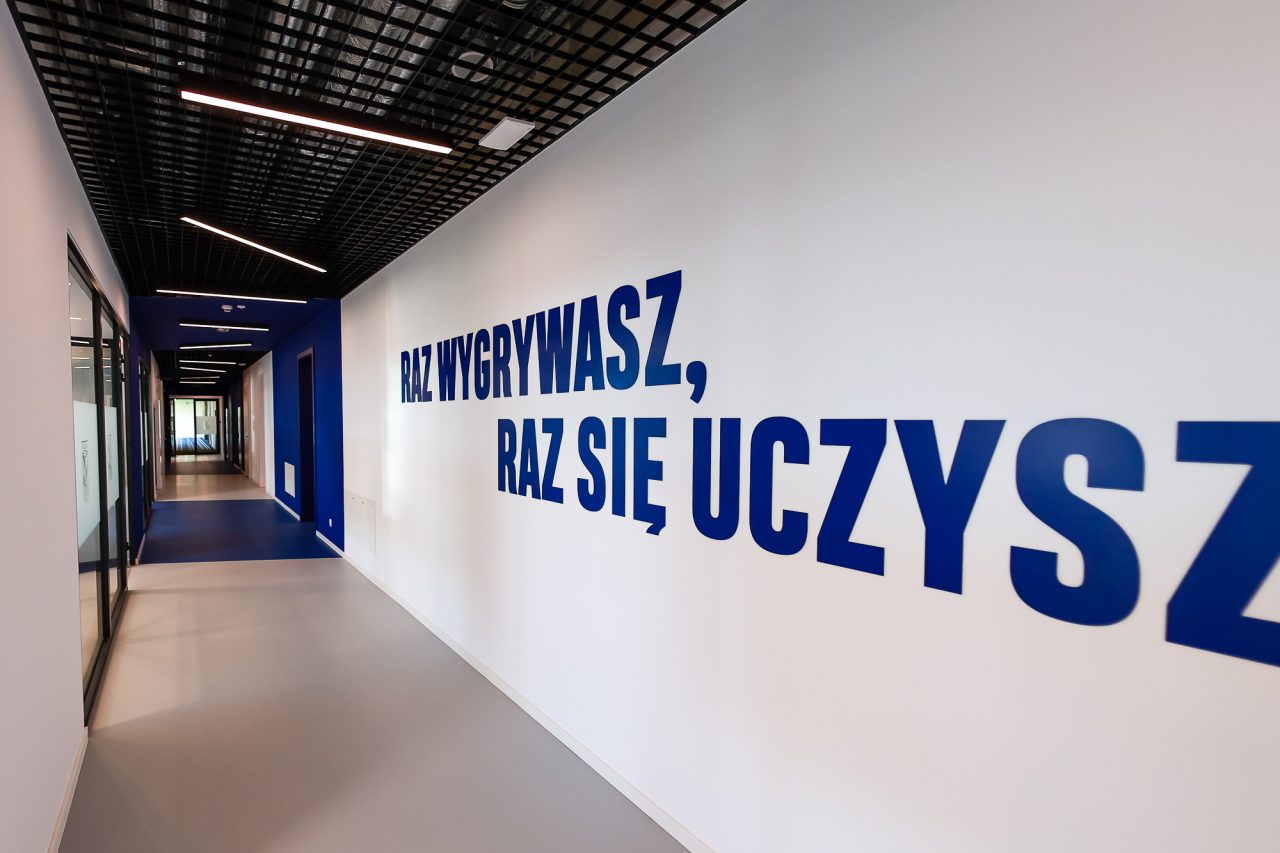 Lech wzoruje się na najlepszych
W budynku głównym są pomieszczenia dla trenerów, kadry zarządzającej oraz dedykowane wypoczynkowi zawodników. Zaplanowano również salę do treningu funkcjonalnego, zaplecze medyczne, szatnie oraz pełne zaplecze organizacyjno-socjalne niezbędne do zagwarantowania najwyższych standardów szkolenia, a także osiemdziesiąt miejsc noclegowych. Znajdują się tutaj również sale wykładowe, bo od września Lech ma swoją szkołę. To Niepubliczne Liceum Ogólnokształcące Szkoła Mistrzostwa Sportowego. Piłkarze z trzech grup młodzieżowych oraz drugoligowych rezerw mają na miejscu edukację.
Obok głównego budynku za jedną z bramek stoi natomiast niezwykle nowoczesny symulator piłkarski – skills.lab. To rozwiązanie unikatowe w naszej części Europy. Identyczne posiada m.in. Bayern Monachium. To najnowocześniejszy i najbardziej zaawansowany system wspierający proces treningowy zawodników. To kilkaset zautomatyzowanych programów treningowych ukierunkowanych na rozwój umiejętności technicznych, koordynacji ruchowej, szybkości podejmowania decyzji, techniki podań oraz strzałów.
– Nie spotkałem jeszcze osoby, która miałaby na tym polu negatywne odczucia. Każdy zawodnik, który wchodzi do symulatora czuje, że stanowi centralny punkt procesu treningowego. Jest on ściśle nakierowany na indywidualny rozwój przy użyciu nowoczesnej technologii, co już samo w sobie powoduje u młodego człowieka pozytywne emocje. Pewnym wyzwaniem jest oczywiście przełożenie treningu z symulatora na ten z boiska trawiastego i odwrotnie. Trzeba znaleźć pierwiastek je łączący, ale już na dziś jesteśmy w stanie zidentyfikować, nad którymi elementami sprawiającymi trudność na murawie możemy pracować w skills.labie – podkreśla dyrektor Wróbel.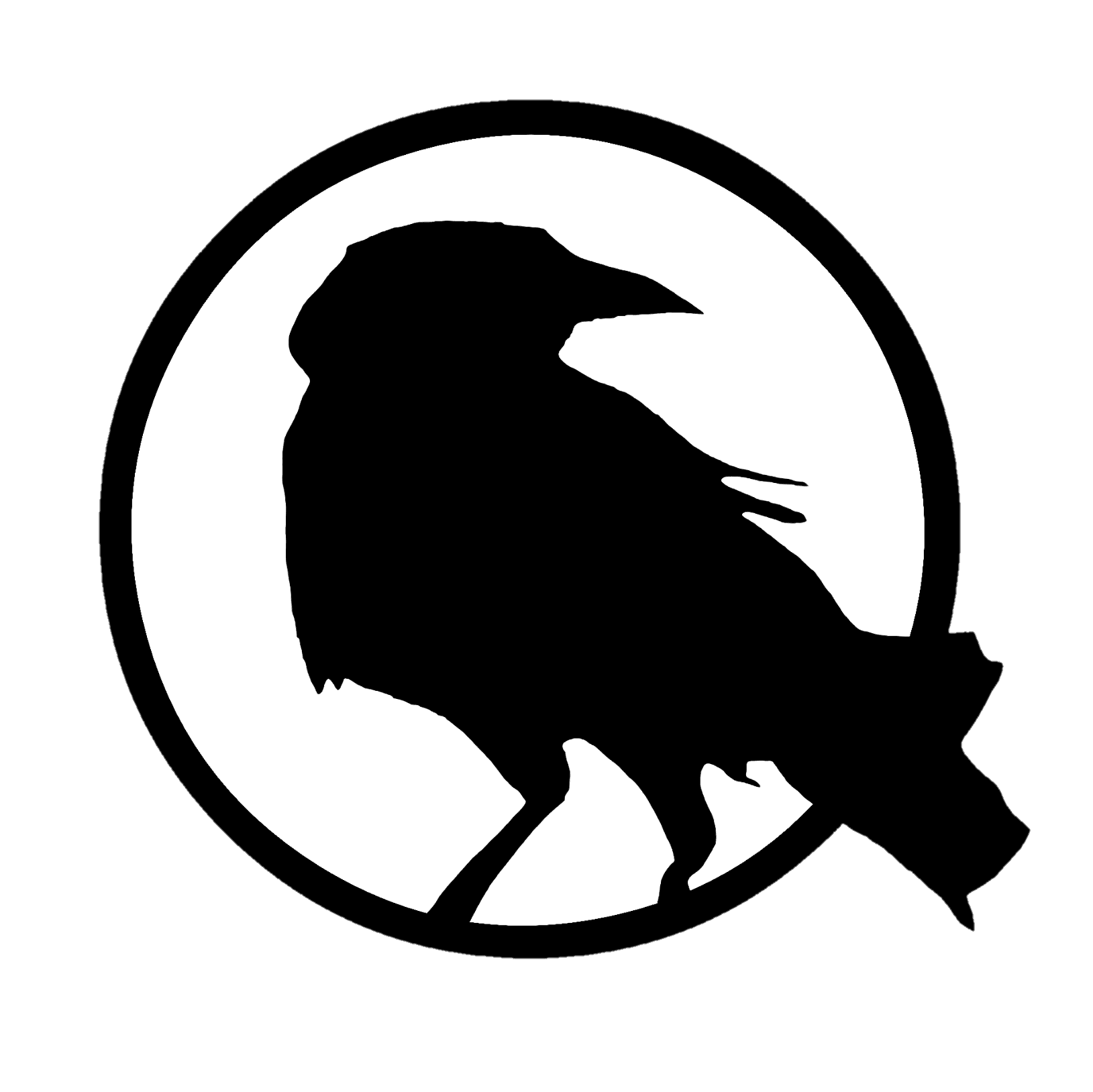 Najpopularniejszy portal informacyjny we Wronkach.Moje Wronki w jednym miejscu. Informacje z Miasta i Gminy Wronki. Codziennie nasz serwis jest odwiedzany przez tysiące osób z Wronek, Szamotuł, Sierakowa, Lubasza, Ostroroga, Wielenia, Obrzycka.